Email Legacy
It is becoming increasingly more difficult to imagine life before the Internet, a time when networked Email was a breakthrough, providing electronic messaging to the growing masses of PC adopters.  But Email, at least Networked Email (vs. its predecessor, Mainframe Email), required a store-and-forward architecture to enable wide-area transportation across disjoint computers, often over periodic slow phone line connections.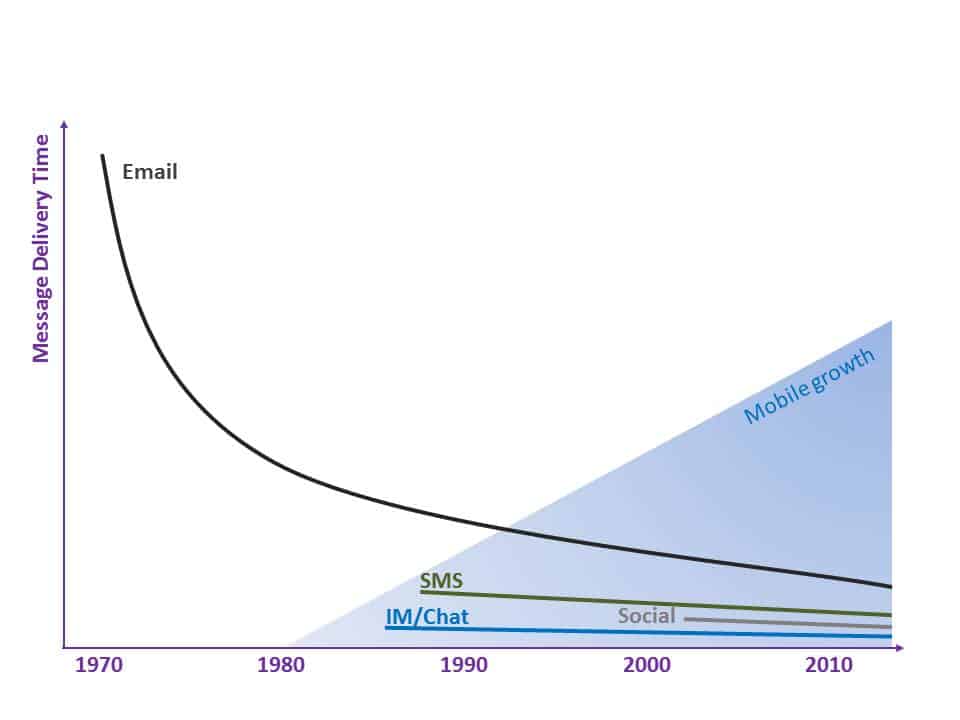 The connections are faster now, but the physical networks making up the Internet are still heterogeneous resources, so Internet Email uses effectively the same store-and-forward architecture (via […]
The biggest cost of Email is the cost of lost opportunity.  Using email for much of our collaboration, idea sharing and decision making is costing organizations dearly in lost knowledge capture.
Imagine we had to buy everything directly from manufacturers – that we had no stores from which to buy items we wanted, not even online stores.  How would that work?  We would have to figure out if the product we wanted even existed and then who made it.  We'd have to contact manufacturers asking if they made the product we wanted or if they could refer us to the right […]
Ok, maybe that's a bit harsh…or is it?  We can't live without email, just like we couldn't live without telephones even when all we had was rotary dials.  Who wouldn't say "rotary dial sucks!" today?  We're dependent on email and drowning in email at the same time.
Look, email, in some form, will not get replaced completely.  Just like TV didn't completely replace radio.  But following are just some of the reasons why we are way overdue for a change.
1. Knowledge Silos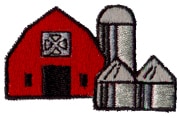 Email is a poor (and that's being polite) information sharing repository.  […]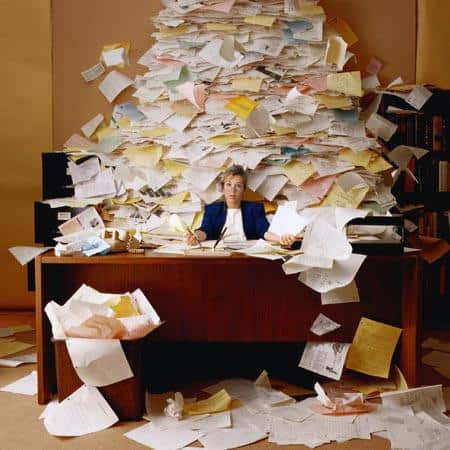 Sure, we can blame email overload on spam, the exploding information age, or our increasing life complexity and responsibilities.  But volume of emails received is only part of the problem, in fact, arguably, not the primary problem.  Even a trickle of running water into a tub that does not drain will overflow.  The unspoken culprit to our email overload, then, is our inability to delete emails.
We keep so many emails because these emails include both content (e.g., message, answers, files) and the notification of this content.  Since we […]
The culmination of cloud, social and contextual collaboration is creating a perfect storm.
When all you have is a hammer, everything looks like a nail.  And so email has been used for decades as the de facto collaboration tool.  Since IBM Profs in '80's and Lotus Notes in '90's, companies have tried to offer better alternatives.  However, these alternatives fell short due to complexity, inflexibility and cost.  Web solutions cropped up, but they just duplicated an antiquated paradigm.
For the first time, the decreasing costs and increasing capabilities and acceptance of the cloud, coupled with the familiarity of social technology and ubiquity […]